Inspired by a conversation with a friend about how specific moments in your life come to be associated with certain songs, and viceversa. Call it the Soundtrack Syndrome. Here's a story of one of those moments.
Song: "Lodi" by Creedence Clearwater Revival
Scene: a living room in Oceanside, California
Year: 1989
Introduction/Background
Chuck liked to drink. My girlfriend, Carmen, called him "El Borracho". She was twenty-one, several months older than I was, and working as a live-in nanny to Chuck, his two little boys, and his petite and mousy wife who was about 7 months pregnant with their third child. Carmen was from Tijuana and had no legal papers to work on this side of the border, so under-the-table nanny work was a good way to go. She had her own room in their small 3-bedroom house in a faded 60s-era housing tract in Oceanside, California. It was late spring of 1989.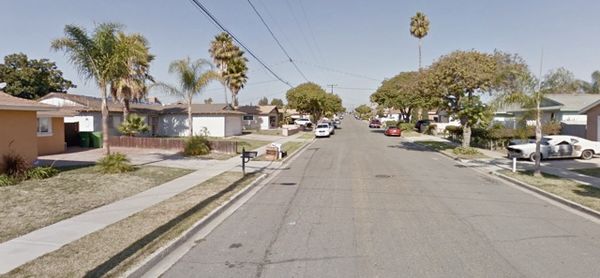 Their street as it looks today (via Google street view)
While it's true that Chuck was something of a drunk, he was a happy drunk and a nice enough guy. He was tall, in his early-to-mid thirties and had collar-length brown hair. For employment, he did some minor construction and set-up for events or conventions or something. He said it was good money and he used to talk about maybe getting me a job with him. I'd just quit Wendy's after working there for longer than I care to admit and I'd found a new job working for a small family business making sandals in a garage down in Leucadia near where I shared an apartment with a buddy from high school. I was making less than $5 an hour and I could have used a little boost in income but I really didn't want anything to do with Chuck other than to drive up to his house once a week to steal Carmen away on her day off.
A Long Day of Twists and Turns
One weekend, Chuck got us all to go along on a trip up to the mountains. His brother "had a place" near Julian that we could use for the day. I'd assumed that because it was his idea, he'd do the driving or that at least we'd be taking separate cars. Instead, I ended up driving all six or us -four adults and two little kids- in my '74 AMC Javelin two-door that got about 12 miles to the gallon.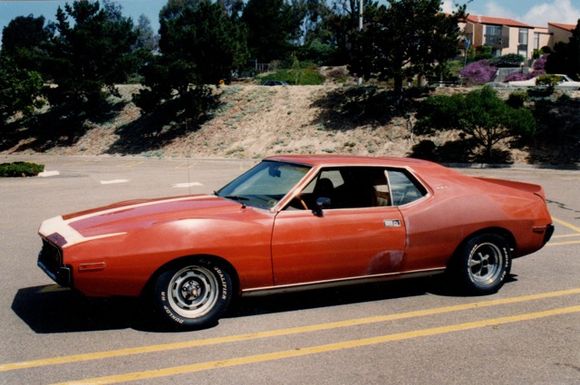 My '74 AMC Javelin/AMX. Taken in 1991, just before I sold it for $700
After 60 miles on Highway 78 (the final stretch of it on twisty mountain roads), we arrived at Chuck's brother's house to find we had no way to get in. Keys were supposed to have been left somewhere and they weren't there. Despite a subsequent pissed-off call to his brother from a pay phone, we never did get in. But the house had a big deck overlooking miles of rolling, piney hills and we spent a little while there before going into town for something else to do and where Chuck could get some beer.
For the long drive back down the mountain we took our time, stopping to eat in Ramona where Chuck had more beer. I had little interest in alcohol back then and it was now pretty clear why I was doing the driving that day. True to character, Chuck stayed fairly upbeat as he grew more intoxicated. Still, the disappointment of the house, the length of the day and the chaotic conditions in the car presented a challenge to keeping up the mood. Aside from a flash of annoyance from me when one of the boys kicked the car out of gear while he was being passed between Carmen in the front seat and his parents in the back, we managed to get back to Oceanside without incident.
Arriving Back Home (Here's Where "Lodi" Comes In)
It was early evening when we walked in through the door of their little house. A couple lights were switched on and the fridge door swung open for more beer. Chuck lumbered into the living room where the lights were still off and he flipped on the stereo. It was dialed in to KLOS, the classic rock station out of LA, and he cranked it up. A familiar song filled the room with an insistent chug-a-chug rhythm under twangy guitars before the singer came in and reminded me of exactly what song we were listening to;
Just about a year ago
I set out on the road
Seekin´ my fame and fortune
Lookin´ for a pot of gold
Things got bad and things got worse
I guess you know the tune
Oh Lord, Stuck in ol' Lodi again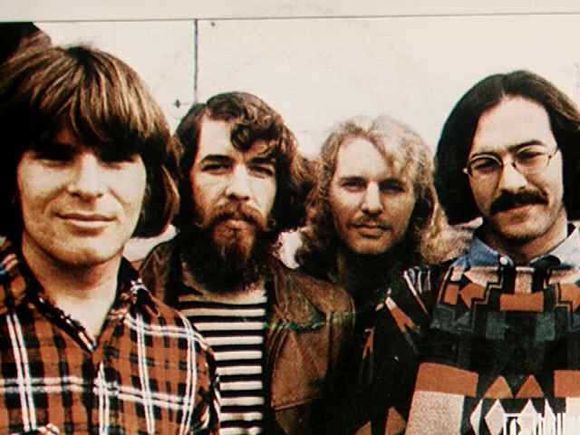 It was Creedence Clearwater Revival's "Lodi." I knew the song from a CCR album I had at home, but I'd never really felt the song until just then. This time, the ache in John Fogerty's vocal and the desolation in the lyrics were palpable. The song went on, telling a tale of unfulfilled promise. There were lines about losing connections, plans falling through, running out of money and finally, in the last verse, a desperate wish to just go home and be done with it all:
If I only had a dollar
For every song I´ve sung
And every time I had to play
While people sat there drunk
You know, I´d catch the next train
Back to where I live
Oh Lord, I´m stuck in ol' Lodi again
The sadness in Fogerty's voice as it contrasted with the buoyant and assertive sound of the rhythm section fit the weary mood in the house. Still the life of the party, Chuck grabbed his pregnant little wife and cozied up to her as if on a dance floor. She smiled shyly under his affections as he put his hand on her basketball belly and declared loudly;
"Honey, I can't wait till you're skinny again!"