"They" say that the famous, legendary, iconic (and oddly triangular) diner seen in Edward Hopper's Nighthawks painting was a real-life restaurant that existed on the corner of Greenwich Avenue & 7th Avenue in New York City in the 1940s. It turns out that "they" are most likely mistaken and that this widely-held belief may be little more than an urban legend.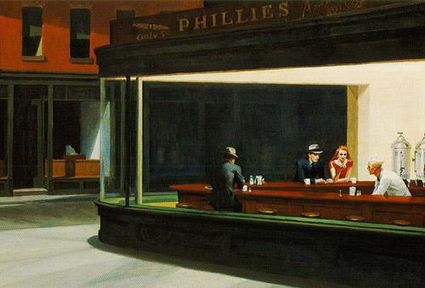 Jeremiah at Vanishing New York has a series of posts this week called Finding Nighthawks. (Part I is here, Part II is here. Part III to be posted tomorrow - update: Part III is here) The re-opening of this mystery was sparked by a series of communications a couple of weeks ago between Jeremiah, myself, and blogger Teri Tynes of Walking Off the Big Apple (who some time ago created & posted an enticing composite image showing the Nighthawks diner sitting like a ghost in its widely-assumed site. This is the image below that made me want to look into it further).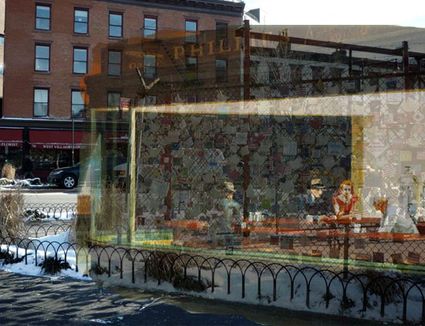 The three of us did some serious geekin' out for about a week, digging up historic photos and little bits of clues to try to figure out if this diner ever actually existed at all and, if so, where it may have been other than at the site that has (wrongly, we think) made it's way into popular art history.
I don't know what exact conclusions Jeremiah will draw in the end, if any, but he's taken the lead on doing additional research and in putting the various photos and alternate site possibilities out there. We'll just have to see if this information manages to rock the world of 20th Century American Art history to it's very foundations…or not.