The other night when I was in the mood to listen to something live, I turned to two of the most enjoyable live recordings I've ever heard in any style of music; Donny Hathaway Live (1972) and Junior Wells Live at Theresa's 1975 (rec: 1975, rel: 2006).
Donny Hathaway Live was recorded at the Troubadour in Los Angeles and at the Bitter End in New York City. Amazingly, both rooms are still there in their original locations today, 40 years later. Having been in both venues, I can picture the scene and I sometimes think I can tell by the ambience which songs were recorded where. (The Bitter End is smaller than the Troubadour by about half with a much lower ceiling so it makes sense that you'd be able to hear the difference).
In his life Donny Hathaway suffered from depression and he committed suicide at age 33. What you hear on this album, though, is anything but depression. As a singer, he's got a commanding, deeply soulful style. The crowd on this record is really into it and they're as important to the listening experience as the music itself. They sing along with some of the choruses and women in the audience shriek with delight at the right moments. There are covers of John Lennon's "Jealous Guy", Carole King's "You've Got a Friend" and Marvin Gaye's "What's Going On" (all then-current hits) and the band is so good that I don't even mind the extended solos! My dad had this record when I was a kid but I didn't think anything of it then. So glad I rediscovered it just a year or so ago.
Now we're going to the South Side of Chicago for some gritty funk/blues. Junior Wells' Live at Theresa's is also a very present live album and another commanding performance but one with quite a different atmosphere. I've never been to Theresa's (it's long gone) but you just know from the sound that it must have been a small, divey place and the audience sounds like all of about 40 people* hanging out in a room that's comfortable and familiar. It's said that this was Junior Wells' regular hometown gig in Chicago and his casual, punchy banter between songs is one of the best things about this recording. He talks to the audience and they shout back. The relaxed and disarmed vibe is evident when Junior cracks an off-hand joke about the ethnicity of a young photographer in the room and then proceeds to crack himself up by using a modified version of a well-known slur to describe his own ethnicity. Distasteful by today's standards, yes, but evidently it was no problem for a crowd of regulars in a South Side bar in the mid-seventies.
The recording quality is a little raw and the band makes a couple mistakes, but that just goes with the spirit of the performance. It's not supposed to be a big deal, it's just a tough little blues band playing another gig in the neighborhood. The whole thing really takes you back and makes you feel like you're there…or like you wish you could be.
* Turns out that's about exactly the right number. The liner notes to this album state that "Theresa's could barely hold 40 people"
Post Script: I thought I should have something to show for the time spent sitting on the couch listening to music, so I decided to sketch after a photo of jazz pianist Willie "The Lion" Smith. The photo was taken by Jeff Albertson in 1974 and shows the old musician looking appropriately cool if not outright "badass" (as the kids say these days). I normally sketch characters from my imagination because it's quicker and more fun, but the little bit of discipline and time it takes to render something is good for keeping up my chops and for helping to rebuild my atrophied attention span. The sketch came out better than I expected. I messed up the hand and I made his glasses too small, but I like it enough to post.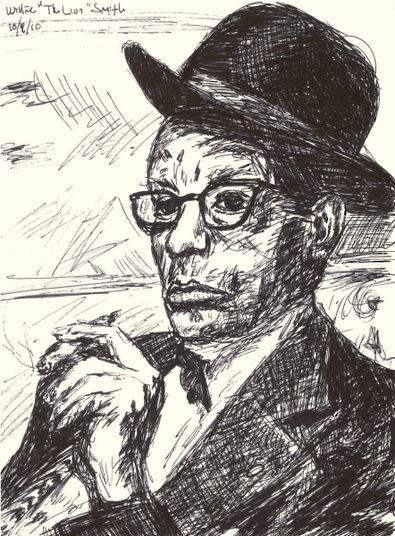 Willie "the Lion" Smith (ballpoint pen), after a photo by Jeff Albertson